The "Banksy" of Poetry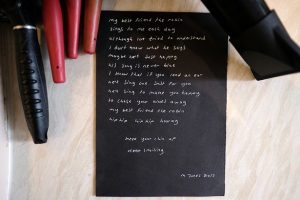 It would seem that Mark Jones, aka the "Banksy of Poetry has struck again, and this time much further south than normal. A Penzance hairdresser was the bemused recipient of his latest poem.
Jones has been sending verse in the post to hairdressers all over the UK for around six years now, using his trademark template and writing his poetry on black card with silver ink. He ends all his poems with the words "Keep your chin up. Keep smiling". He first came to the public eye when he sent a number of poems to hairstylists in Wales.
Marita Gorgone, the hairdresser in question, is unsure why she is the recipient of this latest poem, in fact she wasn't even sure who Jones was until she googled him. The inclusion of a Robin in the verse, however, did throw her a little as it was her late parents favourite bird. This may just be a coincidence as back in March a hair salon in Plymouth also received a poem about a Robin.
It may even have been sent for Random Acts of Poetry Day, 6th September, arriving a few days late. Whoever the "Banksy of Poetry" is the big question is where will he strike next?
Tunnocks Poetry Competition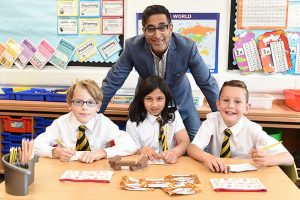 Tunnocks, the makers of those rather moreish caramel wafer biscuits, in conjunction with the Sunday Mail recently launched their poetry competition which is open to primary school aged children.
In 1987, Ted Hughes, the former poet laureate wrote three poems on the back of some Tunnocks wrappers, this was as a response to some students in the St Andrews University Tunnock's caramel wafer appreciation society who were trying to do some fundraising.  One of these poems is now on display in the university museum, whilst another was recently found. It was this discovery and the subsequent sale of the wrapper at auction for £575, that gave Tunnocks the idea for a poetry competition. The want children to channel their inner poet, write a poem about something school related, and emulate the great Ted Hughes.
If the children can write their poem on a caramel wafer wrapper then all the better, but if they don't have one a piece of paper will do!
One minute of noise
Manchester poet Tony Walsh aka "Longfella" played an emotional role this weekend as the Manchester Arena re-opened its doors. This was the first gig since the terror attack that killed 22 people following the Ariana Grande concert in May.
The poet opened the benefit concert "We are Manchester" with a reading of his poem "This is the Place". This was followed not by the usual one minute of silence for the victims of the attack but by one minute of noise; the defiant spirit of the city that stood together ringing out loud and clear.
Acts performing at the benefit included The Courteeners, Blossoms, Rick Astley and Noel Gallagher as the headline act. Russell Kane hosted the show
http://www.cornwalllive.com/news/cornwall-news/penzance-hairdresser-sent-mystery-letter-439934
http://www.dailyrecord.co.uk/lifestyle/competitions/tunnocks-poetry-competition-11080072
http://metro.co.uk/2017/09/09/we-are-manchester-benefit-gig-opened-with-one-minute-of-noise-from-poet-tony-walsh-6915517/#ixzz4sJC3kfIS