Today at My Poetic Side we bring you the sad news of the death of the National Poet Laureate and Political activist Keorapetse Kgositsile, who died just yesterday after a short illness.
South African National Poet Laureate Dies at 79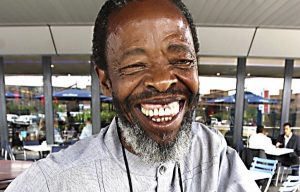 2018 has not got off to a great start for the literary community with the news that the National Poet Laureate of South Africa Keorapetse Kgositsile has passed away.
Kgositsile a prolific poet and also a political activist who was also known by the name Bra Willie, passed away at the Milpark Hospital in Johannesburg on 3rd January following a short illness, he was 79.
Born in September 1938 in Johannesburg, Kgositsile was raised in a small shack on the outskirts of a predominately white district, even at an early age he was aware of apartheid; not only did he have to attend a school a distance from his home but there was also an altercation with a local white family which was to have a considerable impact on his ideals growing up.
He attended several high schools and read as many books as he could, including works by Langston Hughes and Richard White, he was also influenced by the works of Charles Dickens and D.H. Lawrence. On leaving school he had a series of odd jobs before eventually getting a job with "New Age" a political newspaper, where he did some reporting and also contributed poetry to the publication.
In the 1960's Kgositsile was working as a member of the African National Congress when he was advised that it might be wise to leave the country, he did this in 1961 when he went into exile in Tanzania. A year later he emigrated to the United States, and it is during this time that his career as a poet really took off. He enrolled in University and gained a Masters in Fine Arts in Creative Writing..
In 1971 his most influential collection of poetry, and his first book, "My Name is Afrika" was published and he quickly established a name for himself as one of Africa's leading poets.
He remained in the US until 1975, where he spent much of his time teaching. However, in 1975 he returned to Tanzania where he took up a teaching position. It was during this time that he married his second wife Baleka Mbete, who is a current parliamentary speaker, they were divorced in 1992.
In 2006 Kgositsile was give the position of National Poet Laureate. During the course of his lengthy career he received several awards including the Poetry prize of Gwendolyn Brooks ,



He was also awarded the



a national award for excellent achievements in the field if literature in 2008
Keorapetse Kgositsile leaves behind 2 sons and a daughter from his first marriage to the late Melba Johnson Kgositsile.