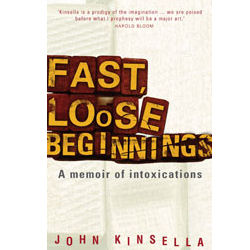 It"s nice to know that someone can take a joke in this story. Jack Marx of the Daily Truth posted this delightful history of the Australian poetry battle that is capturing headlines. In rhyme, no less – rhyming couplets, as is only fitting for a story about three poets embroiled in a battle over memoirs, drinking, porn and restraining orders.
For those who haven"t heard about it, the story starts when Australian poet John Kinsella published a book of his memoirs, Fast, Loose Beginnings: memoirs of intoxications. His publishing house, Melbourne University Publishing refers to it as


Two of the "great and colorful men and women of poetry" call it lies, lies and more damned lies". Renowned poets Robert Adamson and Anthony Lawrence took objection to Kinsella"s portrayal of them in his memoirs. They expressed their displeasure via the modern equivalent of a courier post – email.
The problem with sending email is that it"s rather difficult, once you hit send, to claim you had nothing to do with it. Kinsella perceived threats of bodily harm in the emails he received – threats that the other poets insist were in jest and not meant to be taken that way at all. A magistrate, however, saw the messages the same way, and issued a restraining order against Adamson and Lawrence having any contact with Kinsella.
If this all sounds rather like a schoolyard spat to you rather than the way that enlightened poets should be behaving, you"re not alone. Adamson and Lawrence scoff at the idea that Kinsella could seriously have found their emails to be worrying. In their eyes, they were just having it on a bit at the writer"s expense. Said Lawrence in an interview with The Sydney Morning Herald,

It"s also a throwback to some of the picturesque battles of times past – though the Elizabethan poets at least had the culture to do their dueling in rhyme. When it comes right down to it, these fellows could do verse than this, but not by much. If it IS a pubicity stunt, it"s certainly getting him publicity – and one hopes it"s true that any publicity is good publicity. Judging from the comments being posted at The Daily Truth blog, this isn"t the sort of thing that makes poetry look good.