We begin the week here on My Poetic Side with a look at an exhibition inspired by female poets and clothing.
What the Clothes Tell us About These Female Poets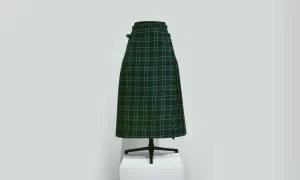 A new exhibition which is taking place to coincide with the 60th anniversary of the death of the poet Sylvia Plath will showcase not only clothes worn by Plath but also by the poets Stevie Smith and Audre Lorde.
The co-curator of the exhibition, which is titled "Poets in Vogue", stated that the idea for the exhibition came about because

and wanted to look deeper at how fascinating and serious the relationship between the way the poets dressed and their work linked to the way in which they used clothes in their work.
The show is a compact one, it is taking place at the National Poetry Library, and entry is free. The focus is on a total of seven different female poets of the 20th century and the relationship that they had towards clothes.
Only one of the items which is on display is an actual garment that was worn by any of the poets. The rest are all recreations of famous garments or imaginative acts that symbolise the relationship a poet might have had with clothing. The Sylvia Plath plaid skirt with its small waist and belt over pleats was worn by the poet on a trip to Paris in 1956. There is a recreation of an iconic asymmetrical kaftan that was worn by Lorde following her mastectomy. A collection of pristine shirt collars represent Smith.
One unusual item in the exhibition is a three-metre-tall manifestation of the British poet Edith Sitwell. For Sitwell, clothing helped to heighten the sense of permanent drama that she felt. The installation takes its inspiration from a gown worn by Sitwell in 1950. It reaches as high as the ceiling and extends a total of just over five meters.
There is also a veil which represents Theresa Hak Kyung Cha, the Korean American poet and performance artist. Her performances often had a strong reliance on fabrics and clothing, similar to a veil separating her from the audience. There is also a fanzine on display which gives details of the clothing she was wearing in 1982 when she was raped and murdered at the age of 31.
Other poets who are represented are Anne Sexton, who took her own life at the age of 45. The curators have chosen a red dress for her, similar to the one she was cremated in. Gwendolyn Brooks is celebrated for the observations that her poetry made about clothes and a paper and fabric installation inspired by 'The Sundays of Satin-Legs Smith', her 1945 poem has been created.
The exhibition has been a work in progress for the last five years, it should have opened much sooner, but the work was delayed by the pandemic.