Today in our poetry news round up, we take a look at the online literary journal, Blackbird as they celebrate 22 years of publication and announce some big changes.
Blackbird Celebrates Over Two Decades of Publication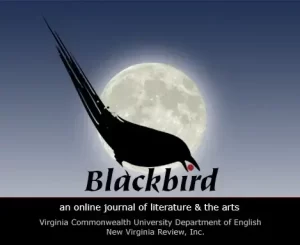 Blackbird, the online journal of literature and the arts is celebrating over two decades of publication. The journal, which is considered to be one of the top literary magazines online, will be hosting panels and readings this week as part of the celebration.
The magazine was first published in April 2002 and featured works by a future US poet laureate, two Pulitzer Prize winners a PEN/Faulkner finalist, and a future National Book Award winner. Now 22 volumes and 21 years later, it has readers all over the world. It has published poetry, essays, fiction and has even featured audio recordings of stage dramas.
Now, Blackbird is set to go through a transition which will see a new design, new publishing schedule and even new staff. Its relaunch is planned for December 2023. 2 days of celebrations are planned to celebrate the achievements that it has made in the last 22 years.
The journal was born of a collaboration between the Department of English at the College of Humanities and Sciences at Virginia Commonwealth University and the New Virginia Review Inc. The title of the journal is an allusion not only to the song "Blackbird" by the Beatles but also a nod to the raven of Edgar Allan Poe and also to "Thirteen Ways of Looking at a Blackbird" by Wallace Stevens. The very first subscriber was someone living in the Czech Republic.
The inaugural publication includes work by Philip Levine, a Pulitzer Prize winner, who later went on to win a National Book Award, a play by Romulus Linney and an essay by Elizabeth King. Over the years, it has nurtured the talents of many writers who had never considered having anything published online before.
In 2006, Blackbird created an international news sensation when it featured a poem, "Ennui" by the poet Sylvia Plath that had never before been published. They also published the story of the composition of her sonnet in response to reading F. Scott Fitzgerald. The publication of the poem meant visibility for Blackbird all over the world with major news outlets like ABC, CNN and BBC covering the story.
Their 2012 spring edition that also had another first when they featured a translation of the book "Sorgegondolen" (Sorrow Gondola), by Tomas Tranströmer just before he won the Nobel Prize.
The relaunch of Blackbird next winter will see one other significant change, and that is that instead of the two large releases that they currently make each year, there will instead be six smaller issues which will be called Flights. Each one will contain between 10 to 12 pieces of creative work ranging from poetry to fiction, visual art to non-fiction. There will also be interviews with authors and book reviews.