We begin the week here on My Poetic Side with a look at the postage stamps that have been issued to commemorate the 250th Birth Anniversary of William Wordsworth.
Postage Stamps and Poets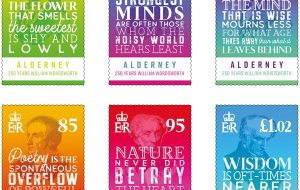 Tomorrow will see the release of a new set of postage stamps in the UK. The stamps which are being issued as part of the commemorations to mark the 250th Birth anniversary of the poet William Wordsworth. The stamps which will be issued under the title of the Romantic Poets are all first-class stamps and there are 10 in total.
For those who are familiar with the frequent releases of stamps by the Royal Mail, these stamps are somewhat different to their usual offering with a design that is rather simple and could be argued far from romantic. However, the stamps which feature a black and white basic design at the bottom and the Queen"s head in red really showcase a single line from an iconic poet on each stamp, beyond this, there is in fact no other colour to the stamps making them very striking. The set has been designed by The Chase.
The Lady of the Lake – Sir Walter Scott
Frost at Midnight – Samuel Taylor Coleridge
The Progress of Rhyme – John Clare
Auguries of Innocence – William Blake
The Fate of Adelaide – Letitia Elizabeth Landon
The Skylark – Percy Bysshe Shelley
Ode to the Snowdrop – Mary Robinson
The Rainbow – William Wordsworth
She Walks in Beauty – Lord Byron
Ode on a Grecian Urn – John Keats
Royal Mail are not the only ones who will be realising stamps this week to commemorate Wordsworth. The Isle of Man Post Office are issuing a set of 6 stamps also on the 7th April. These stamps all feature lines from the poet as well as coloured, and rather attractive, illustrations. The set was designed for them by EJC Design.
The collection of stamps to celebrate the poet is completed with a set of commemorative Alderney stamps which have recently been issued by the Guernsey Post's philatelic bureau. This set of stamps is very different to the other two, each stamp is a bold colourful background over an image of Wordsworth at various times in his life. Superimposed over the top in white is a line from one of his poems, a different one for each stamp.
Whilst Wordsworth is known all over the world for his poetry, in particular for I Wandered Lonely as a Cloud, which is often referred to as the Daffodil poem, his association with stamps is less well known. In 1813 following Wordsworth's parting company from fellow poet Coleridge he became a distributor of stamps and postmaster for Westmorland. The position provided him with financial security whilst he was writing. It was at this point that he moved his family to Rydal Mount in Ambleside where he lived for the rest of his days, surrounded by the nature that was so inspirational to so much of his poetry.