Our final poetry news of the week looks at the Google Doodle dedicated to Audre Lorde.
Google Doodle Celebrates Black History Month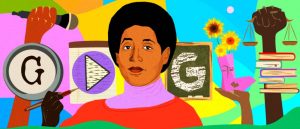 A part of their celebrations to mark Black History Month the current Google Doodle in the US is dedicated to the poet Audre Lorde.
Lorde was an activist and acclaimed Black lesbian poet whose work was inspired by her hatred towards sexual and racial prejudice. She frequently described herself as



and is known for writing pieces that reflect her hatred of racial and sexual prejudice.
The doodle was added yesterday to mark what would have been the 87th birthday of the poet who's writing also celebrated Black identity and put aside the idea that other identities were needed in order for there to be unity.
It may be three decades since the poet died but she is still celebrated for her civil rights activism and also for her artistry.
There were a number of online tributes paid to the poet with Nancy Pelosi praising her work and saying that she had helped to create a coalition that crossed the boundaries of sexual orientation, gender, race, class age and ability. The writer Mona Eltahawy tweeted a quote written by the poet herself.
The doodle has been designed by Monica Ahanonu, the Los Angeles-based artist. It is a series of bold images that can be viewed in a slide show and depict the poet surrounded by items such as books, chalkboards and the scales of justice.
Lorde was born Audrey Lorde but dropped the Y from her name as she felt that it had more symmetry without it. She was born in New York City and attended a Catholic school. Her first poetry was published whilst she was still at high school.
She received her bachelor's from Hunter College and a Library Sciences masters from Columbia University. During the 1960s she worked in the public school's library system.
She married a White gay man, Edward Rollins and they had 2 children together. They divorced in 1970 and in 1972 she met Frances Clayton her long-term partner.
She published a number of collections of poetry and was nominated for a National Book Award in 1972 for



Her work was heavily inspired by a number of liberation movements including Black cultural movements, civil rights, LGBT+ equality and feminism.
In addition to writing poetry Lorde was well known for prose writing and in 1980 penned The Cancer Journals which shared the struggles that she went through dealing with breast cancer and a mastectomy. It is considered to be a major piece of illness narrative. Unfortunately, just four years later she discovered that her cancer has metastasised in her liver.
She served as the poet laureate of New York from 1991 until her death in 1992. She was just 58 when she died of breast cancer.
In 2001 the Audre Lorde Award was created to honour works of lesbian poetry.