In our final poetry news round of the week, we take a look at some jewellery linked to Lord Byron that is up for auction.
Byron's Unrequited Love and The Jewels up for Auction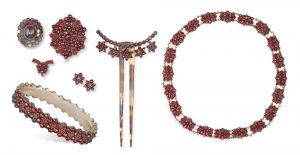 The story of Mary Ann Chaworth and Lord Byron reads a little like a Regency Romance. The two were related, although distant relatives, they were both beautiful and from privileged backgrounds. When they met as teenagers in 1803, Byron fell in love.
He refused to return to school and instead sent gifts of jewellery and badly written poems to her. Such was his love that his mother even wrote in a letter of her despair at being unable to get him back to school despite the fact that it had been six weeks, and that he spent all of his time with her.
The jewels that Byron gifted to Mary Ann are to be put up for auction. The lot, which is made of garnets and silver comprises a necklace, a pair of earrings and a bangle – all showing delicate floral detail of a similar design. The auction will take place on 5th July and the items have a guide price of €800 to €1200.
This is not the first time that the set has appeared at auction. In the early 20th century the current owner's great grandfather bought them at a Nottingham. A letter of provenance is included with the items. The jewellery expert for the auction house says that the golden age for jewellery of this type was the late 18th to early 19th century.
The process used to create the items was designed to make the most of their glowing appearance. However, garnets were not an expensive stone and it is believed that they would not have cost a fortune to Byron.
Mary Ann was a couple of years older than Byron. She referred to him as the Boy Lord and did not return his affections. She also referred to him as lame, a reference to his club foot which caused him to limp, something he had not been able to disguise.
She married a local hunter two years after she had spurned Byron's advances. He was a philanderer and not a kind man. Byron later reflected his first love, believing himself to have been in love with what he saw as an ideal and stating that he might have created her perfect in his imagination.
In 1813, Byron a now serious poet was approached by Mary Ann who as unhappy with her husband. Byron rejected her this time saying she was a fright; she had birthed 5 children over the years and developed a droop in her eye.
The poem The Dream which Byron wrote in 1816 talks about the passion he had for her, and how that changed over the years. Whilst she may have rejected him in his youth, he still held a special place in his heart for her.
Another love token of the poets, this time a gold and enamel ring believed to have been given by Byron to the daughter of his Greek landlady was sold at auction in February 2020 for €7594.