Today"s poetry news round-up takes a look at an incredibly important collection of manuscripts, which will be going up for auction in July.
Handwritten poetry to be Featured as Highlight of "Lost Library" Sale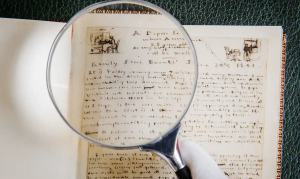 A collection of manuscripts and rare books that were accumulated by the widower of Charlotte Bronte is to be made available to the public for the first time in almost a century.
The auction which is for part of a "lost library" has not been seen by the public in almost 100 years and includes a very rare manuscript handwritten by Emily Bronte, the poem also has pencil corrections added by the poet"s sister Charlotte.
The collection was amassed by Arthur Bell Nicholls who was the widower of Charlotte, the longest living of the Bronte's. She dies at the age of 38 in 1855. Nicholls sold most of the manuscripts in 1895 to a literary forger and bibliophile, who then passed on some of the works to the Law brothers who were collectors who grew up just 20 miles from the Bronte's. They acquired an annotated Bird Book and also a manuscript containing poems by Emily.
The library that the law brothers had collected disappeared in 1939 when their nephew died and was unavailable to anyone including academics. In the course of the last 90 years only one or maybe two scholars have been allowed access to the collection and then only parts of it.
The collection which is being put up for auction by Sotheby's includes more than 500 manuscripts as well as some letters from the library and some first editions. The auction will be taking place in July.
The manuscript itself is incredibly rare and has been valued by Sotheby"s at between £800,000 and £1.2m. They believe that it is the most important piece of Emily related writing to come on to the market in this lifetime and it is more significant than any of her other manuscripts that are currently owned by private collectors. There is almost nothing written by Emily that has survived over the years she wrote Wuthering Heights and that is all, there is no correspondence as there was nobody for her to correspond with.
This is the only manuscript containing some of her most famous poems that has survived, and it was, in fact, mentioned by her sister Charlotte in the preface for Wuthering Heights that she wrote in 1850.
Also up for auction will be handwritten notes that were passed between Emily and Anne and a small sketch that shows the two sisters writing at a table. There is some correspondence between Charlotte and her publisher.
The literary ambitions of Branwell Bronte are shown in a letter that is also up for auction. The letter was sent to Hartley Coleridge, son of Samuel Taylor Coleridge, and talks about Branwell"s attempts at writing from an early age.
These lots as well as some which also include manuscripts from Walter Scott and Robert Burns will be put up for auction spread over three separate auctions which will start in July. It is planned that there will be exhibitions of the items in New York, London and Edinburgh.