Today on My Poetic Side we look at the life and death of Val Warner, the acclaimed editor and poet, who has passed away aged 74.
Val Warner Dies aged 74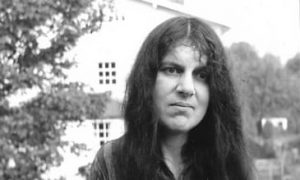 The acclaimed editor, poet and Scholar Val Warner who was responsible for the rediscovery of Charlotte Mew the "forgotten" poet has passed away at the age of 74.
Warner had a very unique style to her own poetry and was often sardonic, allusive and abrupt.
During her varied career, she was not only responsible for the rediscovery of Charlotte Mew, an early 20th-century poet but also the French poet Tristan Corbiere. Her book about Corbiere included some of her own translation of his poems and prose from French and was published in 1975. The book was instrumental in drawing attention to a poet who had fallen out of popularity in comparison to the likes of Charles Baudelaire or Jules LaForgue.
Val Warner was born in north-west London in Harrow. Her parents, who she had little in common with, were both schoolteachers. She was an only child. She studied at Sommerville College, Oxford, where her subject of choice was modern history.
Learning and education were a particularly joyous time in her life, and it was whilst she was at Oxford that she became part of a group of aspiring writers and poets. This group all went on to make their mark in their own particular field. By the time she graduated, Warner had made the decision that she wanted to devote her life to writing.
Writing alone, however, was not enough to earn a living from. She worked as a librarian in a school and also did some freelance copy-editing in order to pay her bills. Whilst she was doing this she wrote "These Yellow Photos", a poetry pamphlet which saw her winning the Gregory award in 1971. She also wrote "Under the Penthouse", which was published in 1973.
These two works were followed by a further three collections of poetry.
On occasion, her work attracted attention from a generation of older poets who took up the position of mentors and to some extent became her friends. They were people who she often visited in their homes and met the families of.
From 1977 to 1988 she was a creative writing fellow at the University College of Swansea. She also held a position as a writer in residence at Dundee University. She later returned to London where she was a member of PEN International working on behalf of writers who were in prison. Her last book was dedicated to the novelist Francis King with whom she had a close friendship until his death in 2011.
During the last year of her life, Warner moved to Hackney to a property with no hot water or heating, a lack of cooking facilities and furnishing and became something of an eccentric recluse. She gave up poetry and turned instead to novel writing, working on but not finishing a total of 10 novels. She drafted and redrafted them, leaving them in piles around her house.
With no relatives and no friends nearby to keep an eye on her, she died alone. Her death was only discovered when a friend was unable to get a response from her to phone calls and emails and alerted the police to a potential issue.