Our final poetry news roundup of the week takes a look at the poet who has been awarded this year's Nobel prize for literature.
Nobel Prize for Literature Winner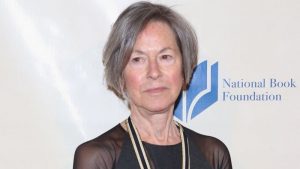 This year's winner of the Nobel Prize for Literature has been named as Louise Gluck the US poet.
The Swedish Academy said that Gluck has been recognised for her for



Gluck was born in New York in 1943, she currently lives in Massachusetts and is a professor teaching English at Yale University.
Gluck is the fourth woman to have won the award in the last 10 years and the 16th to be awarded the Nobel Prize for Literature since the inception of the prize in 1901. Bob Dylan was the last American to win it in 2016.
She is a winner of a Pulitzer Prize which she collected in 1993 for The Wild Iris, a collection of poetry. She also won a National Book Award in 2014. She has received a number of other awards over the course of her career including in 2001 the Bollingen Prize for Poetry, in 2008 the Wallace Stevens Award and in 2015, a National Humanities Medal. In 1993, she was the editor of an anthology of the Best American Poetry.
Her poetry mostly finds inspiration in the painful reality that is being human and looks at themes such as death, family life and childhood. She is also inspired by Greek mythology and many of its characters; in particular, Eurydice and Persephone who are often seen as the victims of betrayal
The Academy stated that Averno, her 2006 collection was not only masterly but also a visionary interpretation of the myth that surrounds the descent of Persephone into Hell in the captivity of the god of death, Hades.
Anders Olsson, the chair of the Nobel prize committee, was full of praise for Gluck and her uncompromising and candid voice which he said was full of biting wit and humour. He also compared her to Emily Dickinson because of her



The prize is given to the person who has "produced in the field of literature the most outstanding work in an ideal direction".
Louise Gluck has achieved something most poets never manage to achieve, even in their own country, and that is true fame in her own lifetime. She has won almost every prize that is possible for an American poet. She has also served as the US poet laureate from 2003 to 2004.
Gluck's name was not high on the list of possible Nobel laureates that was being touted ahead of the announcement this year. In fact, her work is not widely read outside the US, however now, aged 77 she is likely to find herself facing a renewed interest on a global scale, in her work.
This year the award ceremony will not take place in a formal ceremony due to the pandemic, however, the laureates will receive their awards in their own countries.