Today's poetry news round-up takes a look at the Galway International Literature Festival and the new poet laureate who has just taken on the two-year role in Halifax.
Galway International Literature Festival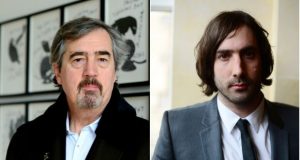 Monday saw the start of this year's Galway's Cúirt International Literature Festival, which saw literary great converging in Galway for the week. The festival which has been running since 1985 is among the most recognised and oldest literature festivals that take place around Europe.
This year's participants include Sebastian Barry the 2018-2021 Irish Fiction Laureate, he is also a winner of the Costa Award for book of the year and in 2017 the Walter Scott Award. Bernard MacLaverty who won the Bord Gáis Awards, and also Éilís Ní Dhuibhne, the person honoured in 2016 with a Lifetime Achievement in the Hennessy Hall of Fame.
Poetry will also be well represented with the 2016 winner of the Listowel Writers Week Award and the Hennessy Literary Prize winner Jane Clarke attending. Clarke will be giving a reading during the festival with Michael Coady, a poet and a member of Aosdána.
There will also be a number of international participants taking part in this year's festival including Norbert Gstrein, the Austrian born writer, Eduard Márquez – the Catalan poet and Hédi Kaddour the French novelist.
There will be a number of different sessions held over the course of the week including one on Irish youth writing, and evening events held by novelist both Irish and International. Saturday will see a rather unusual event take place as part of the festival. Alan Rusbridger, the ex-Guardian Editor in chief and pianist, Finghin Collins. Rusbridger let himself have just a year in which he needed to master playing Chopin's First Ballard Op 23 with the piano; a feat which then resulted in him writing a book.
Halifax Gets New Poet Laureate
Halifax in Canada has just appointed a poet Laureate who in the following two years will be busy bringing poetry to the region.
Afua Cooper is a best-selling author with five poetry books, and several fiction books for young adults to her name. She has also been responsible for several history books, including co-creating "Black Halifax", which used both spoken word and poetry to impart the story of Halifax's three-century African Nova Scotian story.
Cooper is the latest in a long line of women to have held the title of poet laureate, seven in total. She takes over from Rebecca Thomas the previous poet laureate – who was a Mi'kmaq and the premier indigenous person, male or female, to hold the role.
Cooper has been living in Canada since 1980 when she arrived from Jamaica to be educated at the Toronto University. It is here that she gained her PhD. She relocated to Halifax just 7 years ago to take up the role of



at Dalhousie University.