Today's poetry news roundup looks at the mystery Galway stones inscribed with a poem and the Vote the Earth project.
Galway Gate Jigsaw Puzzle Featured Ode by Horace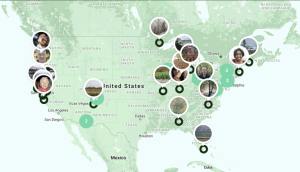 In Galway, an ancient pillar inscribed in Latin has been found in a load of cut stone that has come from Lugalla the former Wicklow estate of the Guinness heir, Garech de Brun.
The pillar was included in a shipment of 25 tons of stone that was sent to the west so that a group of masons could reassemble them to re-create the post-medieval gate that was originally from Galway City. When they began the reassembly work, they were confused to find several pieces of limestone that did not match the gate itself but did appear to fit together.
It is now believed that these extra stones belong to a monument that has been dated as belonging to the late 17 or early 18th century. The clues to the origins of the extra stones lie in the Latin inscription which is an adaptation of an ode from Horace. The inscription was the same as one written by John Wesley, the leader of the Methodist church, in his diary in 1756. Further research has linked that to artwork commissioned by former vice-chancellor of Trinity College, John Vesey. It was written in honour of his second wife who bore him 10 children.
Whilst Vesey fled Ireland during the time of King James II, he later returned and purchased land near to an ancestor of Garech de Brun. It is not understood how the stones of the monument came to be mixed with the gate stones, but it is believed that it must be due to the proximity of both properties.
The Bow gate was purchased by de Brun who intended to erect it on his land but he changed his mind; instead, bequeathing it back to Galway city where it belonged.
The monument is now to become a permanent loan feature at the Galway Museum.
Vote the Earth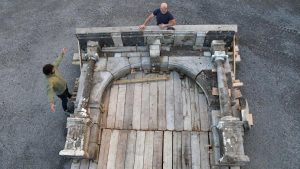 The Wick Poetry Centre which is located at Kent State University has joined forces with the Centre for Earth Ethics, Union Theological Seminary to launch their Vote the Earth initiative. This is an interactive poetry project that they hope will link voice and place. The centre is inviting voters in the US to put the love that they have for the planet behind the power of their vote this week and #votefortheEarth!
This is an expansion of the project that was launched in the community in honour of the anniversary of Earth Day, which this year celebrated 50 years. The project is inspired by George Ella Lyons' poem "Where I Am From". Visitors to the project are invited to look at videos and poems on a map and share their own poems.