Today's poetry news round up looks at the poet who has been named to the Academy of American Poets and the Wordsworth poetry competition for young people.
Former Poet Laureate Named to the Academy of American Poets
The poet Natasha Trethewey, who was the 19th poet laureate in the U.S., has been named to the Academy of American Poets. Trethewey, who is a professor at Northwester University, has been made one of two chancellors. The other will be Joy Harjo. This is an honorary position that has been held by some of the United States most distinguished poets.
The board was formed in 1946, and since its inception only 115 poets have been elected. Trethewey will be joining an incredible line up of poets, including John Ashbery, Lucille Clifton, Yusef Komunyakaa, W.H. Auden, Elizabeth Bishop and Adrienne Rich.
New chancellors serve for a period of six years and are elected to the Board of Chancellors by the current members. As part of their role, Trethewey and Harjo will be responsible for consulting with the organisation on any matters concerning artistic programming. They will also need to work as judges for some of the largest prizes for poets that the organisation oversees and also act as poetry ambassadors.
Trethewey is originally from Gulfport, Mississippi, and has been the Board of Trustees' Professor of English at Northwestern since 2017. She has served as both the state poet laureate for Mississippi and the 19th poet laureate of the US. She was appointed to a second term as US poet laureate in 2013. During the same year, she was also inducted to the American Academy of Arts and Sciences. In 2015, she received the Academy of American Poet's Fellowship and in 2017 the Heinz Award for Arts and Humanities.
She has won numerous awards during her career, including Cave Canem Poetry Prize for her inaugural collection and the Pulitzer prize for her third volume of poems "Native Guard: Poems".
When it comes to poets, poetry and poetry organisation, the Academy of American Poets is the leading champion in the US. They produce Poets.org, which is the largest publicly funded website for poets and poetry in the world. They also oversee National Poetry Month and a wide variety of other poetry related publications and teaching resources.
Cumbrian Poets to Follow Wordsworth's Footsteps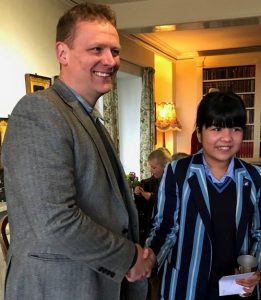 Young Cumbrian poets are being invited to show off their poetry skills to Christopher Wordsworth Andrew, the great great great great grandson of William Wordsworth, one of England's most famous poets. He has just launched this year's Young Poets competition, which he will help judge together with other members of the Wordsworth family.
The competition is open to young school age children who live in the county, and is organised by Rydal Mount near the Lake District village of Ambleside where the poet lived for most of his life.
This year's theme is "New Beginnings". This year there are new curators at Rydal Mount so the theme seemed somehow appropriate.
The winning poem's writer will receive a cash prize of £50, have their name added to the roll of honour – which features on a plaque at Rydal Mount – a trophy, and will also have their poem framed and hung on the wall of the drawing room.