Our final news round-up of the week takes a look at the poetry in honour of Nelson Mandela on the anniversary of the centenary of his birth. We also have an article about a Rudyard Kipling mural and the young female SomaLi Poet of the year.
Anniversary of the Birth of Nelson Mandela Celebrated with Poetry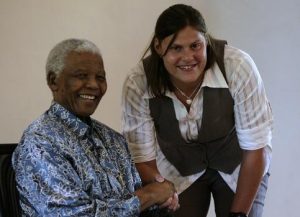 This week marked the centenary of the birth of Nelson Mandela an occasion that was marked with a look the poetry that the life of the great man inspired.
From Mandela's struggle against apartheid, his time in prison and then his years as president his life offered a great source of material to a great number of poets.
Published in 2005 the anthology



is one such example. This anthology contains a mass9ive 6 poems coming from 25 countries. The poems it contains are written by such poets as the Nobel laureate Wole Soyinka, Seamus Heaney, the rapper Tupac Shakur and Linton Kwesi Johnson, a dub poet from Jamaica.
The late Keorapetse Kgositsile, a South African Laureate also contributed to the book. All of the works have one thing in common. They are derived from the long-established tradition of prison poetry, oral poetry and protest poetry that is prominent from South Africa.
Mandela was the subject of many poems during his lengthy incarceration and on his release in 1990 there was a further huge outpouring of poetry from all over the world. It was Mandela's release that inspired Seamus Heaney to add an extra chorus to his play



which he dedicated to him.
Rudyard Kipling Mural Painted Over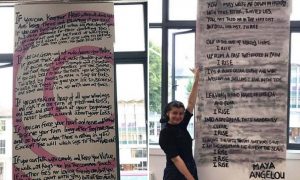 Manchester University Students have made their feelings about the poet Rudyard Kiplingcrystal clear this week. They have take to the walls of the student union with paint brushes and painted over the words of the poem "If" which had been painted there are part of the recent refurbishment of the building.
They argue that the poet dehumanised people of colour and as the well-known author of the poem "The White Man's Burden" his words were a deeply inappropriate message to have written on the walls of the students Union.
The executive team of the student's union confirmed that the students had not been consulted before the poem was written on the walls but that they felt Kipling stood for


The students have replaced Kipling's "If" with the words of "Still I Rise" which was penned by Maya Angelou,the American poet and civil rights activist in 1978.
Somali Young Female Poet 2018 Award
An 18-year-old student from Bosaaso, Somalia has been announced as the winner of this year's Young Somali Female Poet Award.
Shugri Jama Ibrahim was the first runner up in last year's awards. Her winning poem touches on the topics of old Somali culture and the cultural utensils that the nomads used.