We begin the week with a look at the plans to refurbish the burial site of Samuel Taylor Coleridge. We also have a short article about the Google Doodle dedicated to a Thai poet.
Samuel Taylor Coleridge's Burial Site to be Refurbished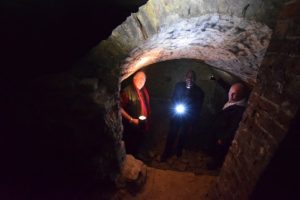 The Coleridge Trust, which was set up earlier this year has plans to refurbish Samuel Taylor Coleridge's crypt and create a brand-new facility to be used by scholars.
The final resting place of the poet was rediscovered in 2018 during extensive renovation works that were taking place on a 17th-century wine cellar that is located under St Michael's Church in Highgate.
Coleridge was originally buried beneath Highgate school following his death in 1834 when he suffered heart failure. However, in 1961 his body had to be relocated due to rebuilding works and the fact that the crypt at the school was suffering from failing integrity.
The Coleridge Trust was put in place in order to raise awareness of the poet and also money to do restoration works to the crypt at St Michael's, to make it a more appropriate resting place for one of the well-known names in English literature.
It is hoped that once refurbished, the burial area will become a place for those people who would like to pay their respects to the poet while also offering a place to study many aspects of his life, in particular the village where he spent so many years of his life. Once the lockdown has eased, the work will be able to go ahead. There is already a website which is being developed and the British Library, who holds a large collection of archive material dedicated to the poet, has pledged its help to the restoration project.
Samuel Taylor Coleridge was born in 1772. He was a philosopher, a poet and a literary critic. He was good friends with William Wordsworth and together they founded the Romantic Movement. Coleridge moved to Highgate in 1823, he hoped that it would be his more permanent home, prior to this he had moved around a lot.
Thai Poet Celebrated in Google Doodle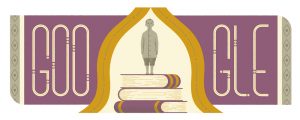 The Google Doodle on 5th July celebrated the 198th anniversary of the birth of Phraya Si Sunthon Wohan the Thai poet, teacher, and writer.
Born in 1822 on 5th July as Noi Acharayangkun, the poet was more commonly known by his honourable title, Phraya Si Sunthon Wohan. He is most well known for having written the first contemporary textbooks on the Thai language.
When he was 13 years old, he moved to Bangkok, where he began his literary journey learning at some of the most antiquated temples in the city. In addition to studying the Thai language, he also mastered Khmer (the language of Cambodia) and Pāli (a classical language with roots in India).
A poet at heart he is believed to with having composed the first national anthem of Thailand. He also wrote the first textbooks which were used to teach generations of children including those of the royal family.
In 1887 he was named on the privy council and he served there until his death in 1891.