To start the week, here at My Poetic Side with a focus on the campaigners who took to the internet in a virtual protest march. We also comment on the remakes of Imagine that have materialised over the last couple of weeks.
Virtual March to Save Reading Gaol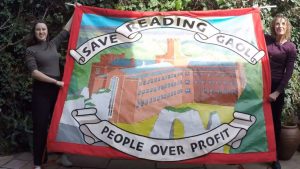 Campaigners looking to save the re-development of Reading Gaol had their plans to hold a match through the centre of Reading postponed on 21st of March when restrictions on movement and crowds were put in place by the government. They had been hoping to muster support for their cause by dressing in full Victorian costume and marching with banners and signs to protest against the plans which would see the Gaol turned into flats.
They did not, however, let this stop them and instead a virtual march was organised, with dances, giant puppets, poetry, banners and songs being posted online using the hashtag #savereadinggaol. The videos and photos were then also uploaded to the groups Facebook page and retweeted to the Twitter account, Save Reading Goal.
The campaign has been running for a while now and earlier this month Julian Barnes the novelist and actor Stephen Fry lent their support to the protest. In 1997 Fry played the part of Oscar Wilde, the goals most famous prisoner in a film.
Wilde spent a two-year spell in the gaol after which he published the Ballard of Reading Gaol.
Discussing the plans for the gaol  Fry said:



It is hoped that the plans to turn the site into luxury flats will be overturned and instead a world-class heritage and arts centre could be created which could become an important part of the community.
Imagine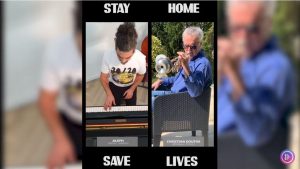 The song "Imagine" made famous by John Lennon has been hitting the news recently. Last week Gal Gadot (of Wonder woman fame) got together, over social media, with a number of other A-listers to create a remake version of the song. The concept behind the version was to plea with people to stay home and socially isolate against Covid-19.
Now a group of Lebanese stars have taken to the internet with their own version and it is so much better. Again, filmed from a variety of different homes due to social isolation this version pulls together a number of singers and musicians as well as a few actors and it has already become very popular.
What many people don't, however, know about "Imagine" is that it was written by Lennon who was inspired by the poetry of his wife Yoko Ono, specifically the poems in her book Grapefruit, which was published in 1965. It was meant as a secular hymn and whilst it has seen a resurgence at times of world issues it was also widely criticised at the time. Many thought that the message of having no possessions was contradictory coming from a man who was a multi-millionaire.