Today on My Poetic Side we look at the death of Emyr Humphreys and we have the Liberian poet who has won a prestigious international award.
Emyr Humphreys Dies At 101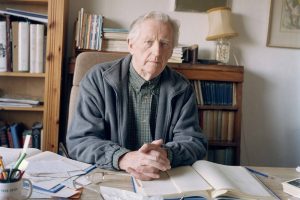 Described as one of the greatest cultural heroes of Wales, the poet and novelist Emyr Humphreys has sadly passed away, aged 101. He died at his home, which is in Llanfairpwll.
During his lengthy career, Humphreys published over twenty novels, including his 1958 novel "A Toy Epic" and "Outside the House of Baal", which he wrote in 1965. He also wrote poetry, short stories, plays for both the television and stage and even a cultural history of Wales
Last year on the occasion of his 100th birthday Professor M. Wynn Thomas wrote of him in Nation Cymru that he was one of the "greatest cultural heroes" of Wales but someone that the Welsh public had ignored for too long. "Outside the House of Baal" he said, remains for many the greatest novel in the English language that has ever been produced in Wales.
Humphreys was raised in Prestatyn and went to high school in Rhyl, where he learned to speak Welsh. He went to Aberystwyth University where he studied Welsh and History. However, he did not graduate because his course ended abruptly due to World War II. He registered as a conscientious objector and was sent to work on farms in Caernarfon and Pembrokeshire before undertaking training to be an aid worker. He did humanitarian work in the refugee camps in Italy and Egypt.
In 1955, he joined the BBC where he spent a decade producing radio dramas. He was responsible for translating a number of plays into Welsh and he worked with many prominent actors and playwrights during his time there.
In the 1970s he protested against the lack of Welsh language programmes on the television and was sent to prison for refusing to pay his license fee.
This was followed by a stint as a drama lecturer at Bangor University before he left in 1972 to concentrate on his writing.
His final publication was a collection of short stories, which was published to coincide with his 90th birthday, which was also when he decided to retire.
Prestigious International Award for Liberian Poet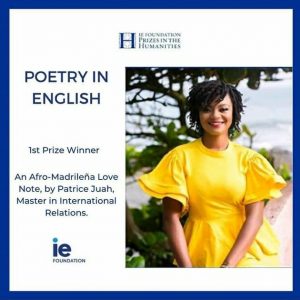 The published Liberian poet Patrice Juah has been named as a winner of the IE Prizes in Humanities from the Instituto De Empresa Foundation which is in Spain. She was announced as the Poetry in English category 1st prize winner.
This is an annual award that is given to celebrate the best audio-visual and written work that has been created by alumni, faculty, staff, or students who are members of the IE community. This is the fifth year of the award, and there were over 700 works submitted by over 300 applicants. There are five categories: short story, poetry, and short essay in English and Spanish, photography, and video.
The prize is a printed edition of all of the winning entries which will also be featured amongst the winning videos digitally.