Today on My Poetic Side we take a look at Lana Del Rey's poetry reading and the latest book written by Kae Tempest.
Singer Criticised for Appearance at Poetry Reading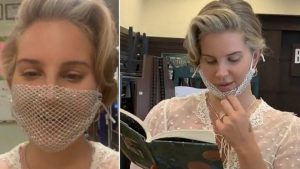 Over the weekend, the singer Lana Del Rey appeared at a signing for her poetry book at a bookstore in Los Angeles. Del Rey was at the Barnes and Noble store to read extracts from her new poetry book "Violet Bent Backwards Over the Grass" and also to sign books.
For the event, she was wearing a glittery mesh face mask, which she had worn previously for a photoshoot. The choice of mask upset many of the fans who had gathered to meet her as it appeared to offer little in the way of a barrier against the spread of Covid-19.
Livestreaming the event for Del Rey was her sister who took to social media to state that the singer had not only had a positive test but had also ensured that she stayed six feet away from fans at all times. However, pictures posted by fans following the event would suggest otherwise.
This is the singer"s first poetry book and it was published earlier this year following much publicity.
Kae Tempest Publishes New Book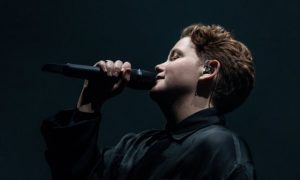 The spoken word poet Kae Tempest (formerly known as Kate Tempest) has published their first book since announcing that they are non-binary.
The book has been published under the title" On Connection" and explores the poet"s life struggles and the joys of creativity and was penned for those who "don't fit". It takes a look at how immersion in those things that are creative can bring people closer to each other.
When Kae made their announcement in August they said that it had been a struggle for a long tie to accept themselves as they were. The hiding had led to lots of issues in life and it was now time to take that first step and learn to respect themselves better. Whilst they had loved Kate it was time to begin a new chapter. This book is exactly that.
Tempest has been writing poetry since the age of 12, but a troubled childhood, running away from home, being first a school drop out and then a drug dealer, allowing strangers to touch them in exchange for cigarettes and beer have all lead to the creativity that has eventually saved them.
Having finally emerged from the fug of the life they had been leading, Tempest found music and the joy that it could bring. In 2013, Tempest was named the winner of the Ted Hughes Poetry award with one of their poems shortlisted for both the Mercury Prize and a Costa book award. They have also been nominated twice for an Ivo Novello award.
Nodule surgery on their vocal cords, followed by three long weeks of recuperation when they were not allowed to talk, gave the poet an opportunity to re-evaluate how they saw themselves and the realisation that it was time to stop trying to fit in the way that society expected them to.