Today in our poetry news round-up we bring you stories about a release of a new book about a poet, the temporary exhibit in Michigan that is set to become permanent and the winners of this years Trochaire poetry competition.
Release of Book about Edward Carpenter Coincides with Fundraising Walk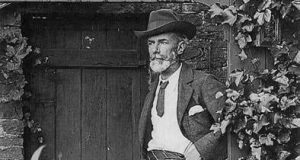 A fundraising walk has been organised to take place in connection with the release of a new book about Edward Carpenter, the LGBT+ pioneer from Chesterfield.
The walk which followed a route of 5.3 miles from Chesterfield to Millthorpe, a rural Derbyshire, a route that the poet regularly walked took place over the weekend. This was the same day as the book The Chesterfield Letters was released. The fundraising walk raised a total of £1140 for the Derbyshire LGBT+ centre.
Carpenter was born in Chesterfield in 1844, he moved to Millthorpe to live with his partner George Merrill. Carpenter was an openly gay man during a time when being gay was illegal.
He was a poet and a philosopher and was significantly ahead of the times he lived in. He is also well known as the
"last gay man standing in Britain"
in the wake of the 1895 imprisonment of Oscar Wilde the majority of gay people from London fled to Paris.
The book contains a number of letters from the poet which have previously never been published.
Poetry Walk Might Remain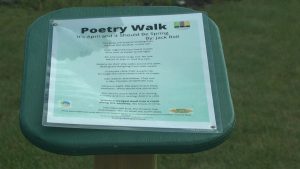 Earlier this year the Alpena Country Library and The Besser Museum teamed up with the Susan Lane Foundation in order to create a new and different poetry attraction. The Besser Museum Poetry walk was only supposed to last a month, but it may now be here to stay.
The exhibit is available for people to enjoy outdoors, whilst still remaining at the appropriate social distance from each other. Along the walk are a series of posts, and each one features a poem from either a historical poet or a contemporary one from Michigan. All of the poetry has been selected by the Susan Lane foundation.
The exhibit has proved to be significantly more popular than the organisers might have ever imagined. Discussions are underway to see if they should make it a permanent addition to the museum, and a way of displaying things in the local community, possibly even with the help of other organisations.
2020 Trochaire Poetry Winners Announced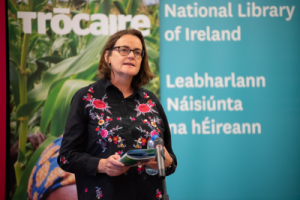 Poetry Ireland and Trocaire have announced the names of this year's winners of their poetry competition, which this year was held under the theme "Standing Her Ground".
This is an annual competition that seeks to raise awareness of equality, ecological and global justice issues using the arts. Despite the pandemic and the closing of schools early this year, the organisers have been delighted, and a little surprised, with the number of entries that they have received.
In total this year there were winners from a total of nine different countries. They are spread across a total of six different categories, adult unpublished, adult published, post-primary senior and post-primary junior, primary senior and primary junior. As with many of this year's awards ceremonies, this one will not take place in person, but all prizes will be awarded virtually.