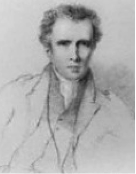 Barry Cornwall was the pseudonym used by an English poet who also enjoyed a long career in the legal profession. Despite being a busy lawyer he still found the time to compose verse although it seems that he wrote his poetry over a relatively short period of time, approximately between the years 1815 and 1832.
He was born Bryan Waller Procter on the 21st November 1787 in the West Yorkshire town of Leeds. He enjoyed an affluent childhood and his parents sent him to the famous Harrow School where his school friends included Robert Peel and Lord Byron. He had plans to enter the legal profession and his first employment on leaving school was with a solicitor's office in the small country town of Calne, Wiltshire. At the age of 20 he moved to London to study law. He entered into a partnership in 1816 with an established solicitor but this was dissolved four years later. Along with progressing his legal career, Proctor had a strong desire to become a poet and began writing using the name Barry Cornwall.
His early efforts found a publication outlet in the Literary Gazette. He did not turn his back on the legal profession though and, having married in 1824, he took up conveyancing work and then, seven years later, was called to the bar. Within a year he was appointed Metropolitan Commissioner of Lunacy and he remained in this field of legal work until he resigned in 1861.
His published works included collections of poetry such as Dramatic Scenes and other Poems (published in 1819) and English Songs (1832). He also wrote plays including Mirandola which was a tragedy performed in London in 1821. Additionally he wrote memoirs on such well known figures as William Shakespeare, Ben Johnson and Charles Lamb, the latter appearing in 1866. He was working on an autobiographical work which included notes on his many literary friends, including Robert Browning and William Lisle Bowles, but this was only published in 1877, three years after his death. Coventry Patmore made additions to this work and had it published.
Cornwall's work was not generally known outside of England but impressed sufficiently to gain him a reputation of sorts, at least within the literary circle to which he belonged. For example, his good friend Charles Lamb praised the Dramatic Sketches collection although, of course, his impartiality would have to be questioned. Here is an example of Lamb's assessment:



Perhaps the following poem is one that Lamb was thinking of when he made the comments above. It is a lyrical, touching ode called The Poet's Song to His Wife: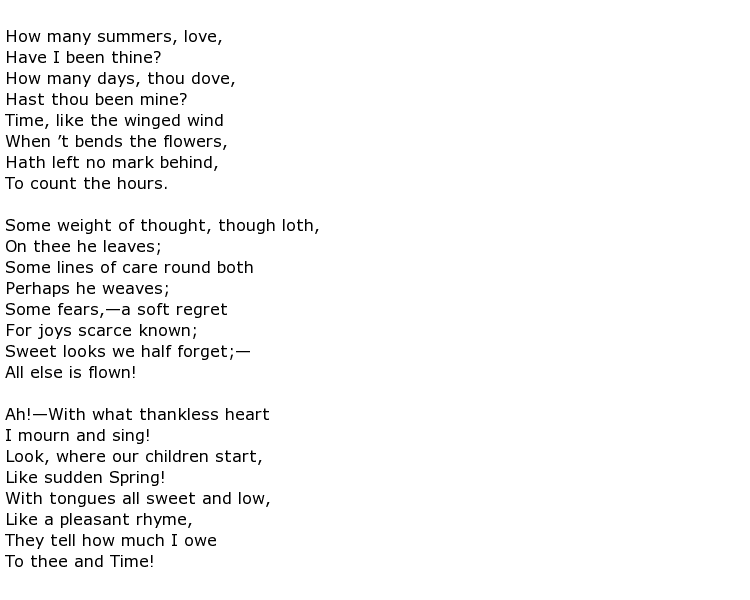 Some critics have suggested that Cornwall lacked his own style, often appearing to imitate that of other, more superior romantic authors. His work though was appreciated by the Russian Alexander Sergeyevich Pushkin and he translated some of Cornwall's poems into Russian. The story Vanity Fair, by William Makepeace Thackeray, was dedicated to Cornwall, but using his real name (B W Procter).
Bryan Waller Procter/Barry Cornwall died on the 5th October 1874 at the grand old age of 86.