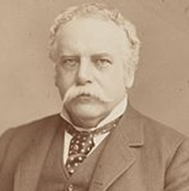 George Henry Boker was a 19th century American poet and playwright who also spent a number of years overseas in the diplomatic service of his country.  Many of his poems were sonnets and these were so well regarded that critics have described him as one of the best American sonnet writers.
He was born on the 6th October 1823 in Philadelphia, Pennsylvania, the son of a wealthy banker who had some difficulties during the financial crisis years of 1838-40.  Boker later defended his father's honour in a book called The Book of the Dead.  Despite all that he grew up in comfortable circumstances, attending private schools and then Princeton University.  Here he first became seriously interested in literature, becoming the first editor of a literary magazine called the Nassau Monthly.  This is still going strong, though is now called the Nassau Lit.
He had, though, shown a much earlier interest in poetry, reading it from the age of nine.  During his time at Princeton he studied avidly the works of Lord Byron, Shelley  and Shakespeare, amongst others.    He graduated in 1842 and decided to study law.  He was married soon afterwards and, although he used his knowledge of legal matters while serving as a diplomat, poetry would always be his main interest.
After his father died Boker had the advantage of being able to devote his time to leisure pursuits like dancing, the sport of boxing and, of course, writing.  He had his first collection of poems published in 1848 under the title The Lessons of Life, and other Poems.  He was associating with others from the world of literature, names such as Richard Henry Stoddard and Bayard Taylor.  These men became life-long friends and each would encourage the other in their literary pursuits.
Boker's poetic output was considerable but he was also prolific in the writing of plays.  He wrote tragedies such as one about the conflict between the Spanish people and the invading Moors.  Calaynos was staged in London during May 1848 and two years later he wrote Anne Boleyn.  On a lighter note, the same year, he wrote a comedy called The Betrothal.  The overall impression that one would get from his plays though is that they were written by a poet, often in verse style, although he still ensured that they had a good dramatic flow.
Boker changed political allegiances during the Civil War, becoming a staunch Republican, and he set down his thoughts on the conflict in a volume of poems published in 1864 called Poems of the War.  Reproduced below is an extract from The Black Regiment which tells of the glory to be found in the fighting exploits of men who had once been slaves to their white masters but who now stood on the battlefield, intent on victory if possible.  Here are the opening two verses and the last one: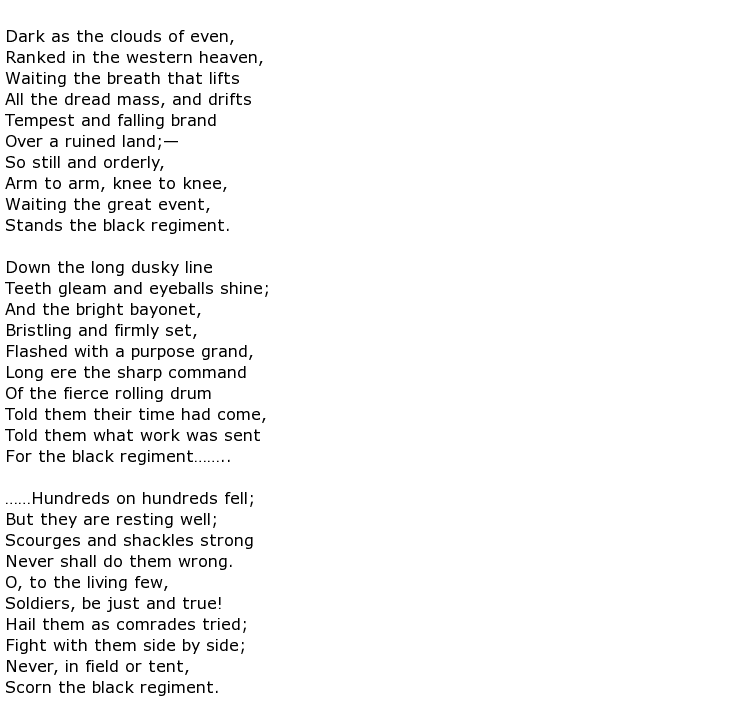 Boker's literary career was put on hold for a number of years when he was sent to Constantinople in 1871, appointed U.S. Minister by President Ulysses S. Grant.  He did great diplomatic work there despite struggling with the Turkish language and having little faith in his interpreters.  He was sent to a similar post in Russia, in 1875, but was recalled from that three years later.  He returned home somewhat chastened, fearing that he had been a failure as both a diplomat and as a poet.  This was clearly not true though.
His work remained popular and a collection of sonnets called



was published in 1927, over thirty years after his death.
George Henry Boker died on the 2nd January 1890 in Philadelphia.  He was 66 years old.