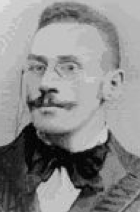 James Edwin Campbell was a 19th century African-American poet whose life was tragically cut short by pneumonia.  His output of poetry only ran to two volumes but it was said that the second collection, called Echoes from the Cabin and Elsewhere, contained some of the best poems written in the Gullah dialect to be found anywhere in the 19th century.  He also wrote short stories and edited others' work and he was a teacher for a short time.
He was born on the 28th September 1867 in the Ohio town of Pomeroy.  He grew up attending public schools and graduated from the Pomeroy Academy in 1884.  He had ambitions to be a writer from an early age.  In his twenties he managed to get some of his work published in Chicago newspapers and he also contributed to a popular literary publication called the Four O"Clock Magazine.  He married a fellow poet by the name of Mary Lewis Champ in 1891.
Campbell began teaching at a school in Ohio and took an active interest in Republican politics.  From there he moved on to become principal of Langston School in Point Pleasant, West Virginia.  His next assignment was the prestigious position of president of a newly established education establishment for young African-Americans called the Collegiate Institute (Charleston).  It started out as an agricultural and mechanical arts school but would eventually become the West Virginia State University.  His wife also worked there as Instructor of Vocal Music and Drawing.
Campbell's first published work in book form was Driftings and Gleanings.  It came out in 1887 and was a mixture of essays and poems written in standard English but he changed his style for the second book which was published eight years later.  Echoes from the Cabin and Elsewhere would eventually become known as his best work.  It was a detailed and accurate study of African-American life of that time, the writing appearing on the page in the same "Gullah" dialect that it would have been spoken. They were simple poems, written with great humour, that concentrated on the folk wisdom of antebellum plantation folk, always giving the reader a realistic view of the joy and pathos of cabin life that was the lot of many negroes at that time.  Here is a typical example of this kind of work, a short poem called Negro Serenade: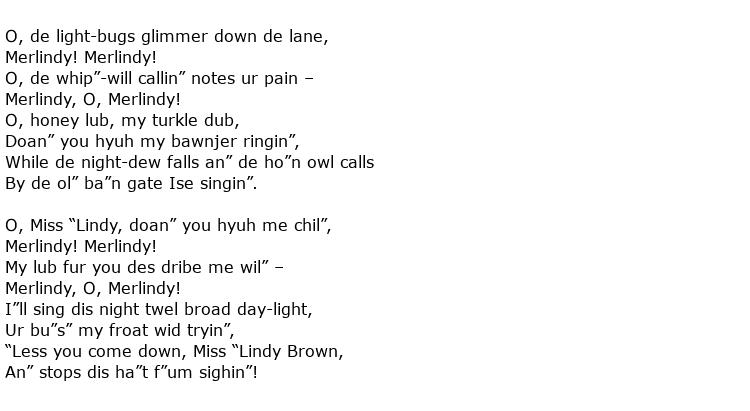 Another poet, Paul Laurence Dunbar, has often been credited with being the first to write in this fashion but Campbell's efforts pre-dated his by several years.  When Campbell moved to Chicago he wrote for the Times-Herald newspaper and also became popular as a very able public speaker.  He really was looking forward to a long and promising career but it was cut short when he contracted a fatal dose of pneumonia whilst visiting his home town of Pomeroy.
James Edwin Campbell died on the 26th January 1896 at the tragically young age of 28.  A book called Black Poets of the United States was published in 1973 and its author, Jean Wagner emphasised Campbell's



which foreshadowed the verse that was to come from poets writing during the Harlem Renaissance.