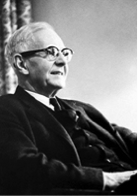 John Crowe Ransom was one of a group of sixteen, southern-based American poets who famously created the "Fugitives" group. They were all passionately committed to the southern ideal of agrarianism as opposed to northern industrialisation which, they felt, was disadvantaging the south unfairly. The group were, no doubt, politically motivated but they did their lobbying with their pens. All were accomplished writers and Ransom's poetry was described as remarkable, if not a touch quirky and eccentric in parts. He published a number of books of poetry and essays and was also responsible for editing three anthologies. In addition he was also a magazine editor and literary professor for many years at the Vanderbilt university and also Ohio's Kenyon College. He remained in his Ohio post until retirement in 1959.
John Crowe Ransom was born in April 1888 to a Methodist minister and his wife. All the family were passionate about reading and, in fact, John worked his way through the family library while still very young. He was taught at home until the age of ten when he started attending a local school. He was soon admitted to Vanderbilt and graduated from there in 1909 when he was 21. He then filled a variety of teaching posts and specialised in Greek and Latin classics.
Between the years 1910-1913 he was at Oxford university, further enhancing his knowledge of the greats of Greek and Latin classic writing. He returned to Vanderbilt but this was disrupted by military service in France where he was given the post as an officer in the artillery. Once the war was over he once more found himself at Vanderbilt and was married in 1920. His wife bore him three children.
It has been said that Ransom was a great university teacher with many students benefitting from his tutelage and going on to be distinguished writers themselves. Fellow "Fugitive" poets Allen Tate, Robert Penn Warren and Donald Davidson were just three examples of the many students that Ransom taught. They actually influenced Ransom's poetry, steering him into the modernist style of writing that the group became famous for. His most famous collections of poetry were Chills and Fever, published in 1924, and Two Gentlemen in Bonds (1927). It seems that most of his offerings in the form of poetry belonged to the period 1916-1927. He simply "tinkered" with earlier pieces after that, trying to improve on the originals.
Most of his work displayed a light touch, often evoking a sense of nostalgia in the reader, for a time long past. A good example is his poem Janet Waking which is a simple tale of a young girl in the country who cannot wait to get downstairs and out into the yard to check on her beloved hen. It was written in typical "southern style" and the first few verses of it are below: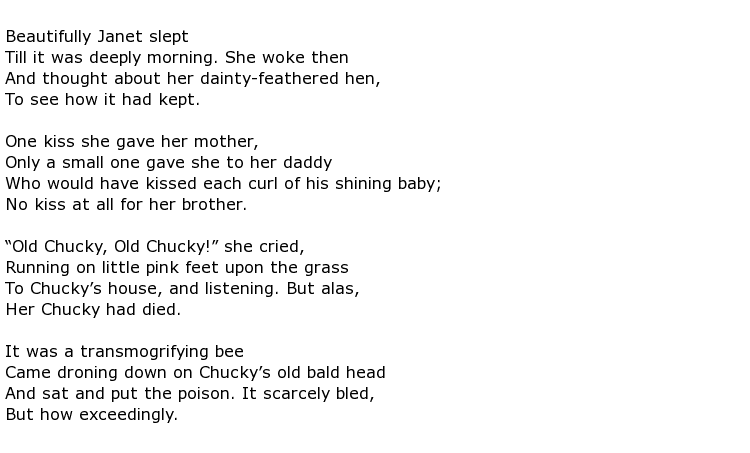 Although he was, at the time, passionate about the "Agrarian" ideologies he, in later years, distanced himself from them to the point where, in 1945, he was openly critical of the movement. Ransom was recognised as a great American poet despite his relatively small output of poems and the short period in which he wrote them. In 1951 he won the Bollingen Prize for Poetry and a National Book Award in 1963 for his collection Selected Poems. One more honour came his way in 1966 when he was elected to the American Academy of Arts and Letters.
Ransom passed away in July 1974. He was 86 years old.