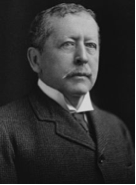 Thomas Bailey Aldrich was an American poet, novelist and literary critic, and for a number of years he was editor of The Atlantic Monthly, the famous magazine that was created in 1857 to comment on the latest cultural and literary issues. It is still published today, but with the shorter title of The Atlantic.
He was born on the 11th November 1836 in Portsmouth, New Hampshire. While he was still young, the family moved to New Orleans but Thomas was sent back to Portsmouth ten years later to begin his preparations to enter college. He rebelled against this notion and, when his father died, he turned his back on his education even though he was just thirteen years old. Sometime later, when in his 40s, he wrote a semi-autobiographical novel which was based on this period of his life. He called it The Story of a Bad Boy and wrote a character called "Tom Bailey" into the story who was based on himself.
By the age of 16 Aldrich was based in New York and working for his uncle in an office. His talent for writing saw him making contributions to various magazines and newspapers and he soon fell into the Bohemian lifestyle of artists and poets that was prevalent in the city. Contemporaries of this time, the 1860s, included Walt Whitman, Richard Henry Stoddard and Bayard Taylor. He worked his way up in the newspaper business and edited the New York Illustrated News during the American Civil War.
He returned to his roots in Boston in 1865, continuing to develop his editorial and writing skills until he landed the editorship of the Atlantic Monthly in 1881. He remained in this post before falling out with the publisher over his refusal to publish certain articles by such as Marion Crawford and Woodrow Wilson. He resigned in 1890. He still had his own writing to sustain him though and, by then, a number of collections of poetry had already been published. His first was The Ballad of Babie Bell in 1856 and others followed at fairly regular intervals until 1889 when Wyndham Towers came out.
His style was mostly light and lyrical but he did try his hand at heavier, longer pieces which were much less successful. Examples of these are Hesperides and Palabras Cariñosas. One of his love poems was called Sweetheart, Sigh No More and it is reproduced here: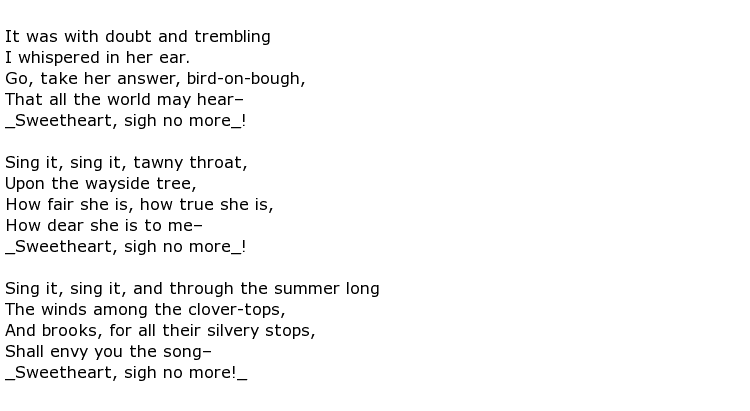 Aldrich's wife, formerly known as Lillian Woodman, drew a quite spectacular tirade of criticism from the eminent writer, Mark Twain who was a friend of Aldrich, if not his wife. In 1893 he allegedly wrote of her:


Despite this opinion the couple lived a relatively happy life together until tragedy struck in 1904 when their son Charles was struck down with tuberculosis, and died.
Thomas Bailey Aldrich died on the 19th March 1907 at the age of 70. He died peacefully in his own bed and it was recorded that his last words were