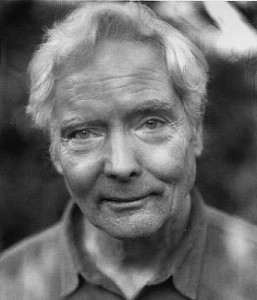 Born in 1927 in New York, American poet W. S. Merwin won over the public and critics alike throughout his career. His father was a minister and Merwin's first contact with writing was copying out hymns but it was not until he went to university that he began to take an interest in poetry.
He went to Princeton and graduated in 1948, having spent time with burgeoning poets such as Berryman and Blackmur. He worked in translation, traveling through Europe where he met the English writer Robert Graves. Although he was by that time married, Merwin began an influential relationship with writer Dido Milroy who helped him find work translating but also introduced him to many literary heavyweights of the day.
In 1952, Merwin published his first collection of poetry in A Mask for Janus, with W. H. Auden being amongst those who lavished praise upon it. It was a work that had more than a little influence of Graves in it, as well as the medieval poetry that Merwin was at the time translating. In truth, Merwin was influenced by a wide range of poetical styles and literary eras, all of which seemed to come across in his verses.
In 1956 he took up a poetry fellowship in Massachusetts where he continued to write, publishing Green with the Beasts and The Drunk in the Furnace. By now, having learned his trade, he was starting to find the confidence to experiment with new forms and also explore deeper issues such as what it meant to be an American.

With the Vietnam War in progress, his most visionary collection The Lice was published in 1967, harshly condemning man and providing an apocalyptic view of the world. The Carrier of Ladders followed and won his first Pulitzer in 1971 – Merwin caused a good deal of controversy when he gave away the prize money to the anti-draft movement. Both The Lice and Carrier of Ladders took from ancient classical legends to explore a range of ideas, including Merwin's own opposition to the war.
After the breakup of his marriage, Merwin found himself in Hawaii where he began to learn more about Buddhism and became involved in environmentalism, both of which influenced later writings such as The Compass Flower and The Folding Cliffs. He published his poetry until the end of his life, like The Moon before Morning in 2014 and Garden Time in 2016. He also won a second Pulitzer in 2009 for The Shadow of Sirius.

He is one of the most widely celebrated poets of the 20th Century, gaining honors from the American Academy of Poets and the Shelley Memorial Award, in addition to the two Pulitzers. He served as poet laureate in America from 2010 to 2011 and remained in Hawaii since he moved there, living near a volcano on an old pineapple plantation where he died on March 15, 2019.