Last week, we pointed you to Quickmuse, the fifteen minute poem site,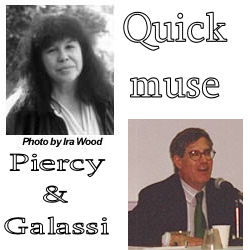 and this week they"re proving that they"re going to be fun for a while. This week they"ve added another battle royale, pitting poet/publishers Marge Piercy and Johathan Galassi against each other in an epic fifteen minute race. Piercy and Galassi"s efforts can be read at Quickmuse, both in their entirety and as they unfolded. It"s a rather fun exercise watching a poem take shape and be born – and I find myself watching and composing in my mind as I watch the actual poet write.. pause… erase and write again, sometimes disappointed that the poem is going in a direction other than the one I would have chosen and others marveling at the new directions in which it is flowing.
Quickmuse has already scheduled two more agons for the upcoming weeks: Glyn Maxwell vs. Thylias Moss on June 27 and Kevin Young vs. Carol Muske-Dukes on July 12. The discussion boards are hopping, giving readers a chance to respond, critique and communicate – but I can"t help imagining the place as a virtual coffee bar hosting an Open Mike night with a signup sheet posted an hour in advance of the competition, a virtual online extemporaneous slam starring you and me and Uncle Bud, progressive rounds of matches with 8 or 10 or 13 poets working against the clock to craft tight poetry while the world watches. For the moment, at least, it seems there are no plans to move in that direction. With the lineup planned, it will still be interesting to watch – and maybe if we keep hoping and asking, we"ll get an Open Quickmuse in the future.