What can you write in fifteen minutes? Or perhaps more pertinentily, do you keep your muse on tap?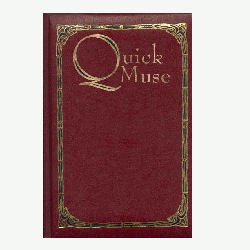 A new site on the cyberhorizon is pitting famous poets against each other in timed fifteen minute bouts. Quickmuse is the brainchild of Ken Gordon of Newton, Mass, who believes that improvisation keeps poetry fresh.

The meat of Quickmuse is the "agon", the ancient Greek term for poetic contests. Quickmuse takes two poets, hands them both the same snippet of text as inspiration, and then hits the stopwatch. Each poet has fifteen minutes to write a poem inspired by the passage they"ve just read. At the end of the fifteen minutes, the poems go up on the Quickmuse web site as is – with a twist. Web viewers can not only read the finished poem, they can watch inspiration taking shape thanks to a nifty little bit of technology that records the keystrokes as the poets type. Thus, the audience can watch the faulty starts, the backspacing, the changes and the pauses that give the poem its substance. (And yes, this is a poetry blog, but code being its own form of poetry, we"d be remiss if we didn"t give kudos to Fletcher Moore, creator of Poematic, the nifty little bit of technology mentioned. Kudos, Fletch.)
So far, Quickmuse has hosted two agons. The first, on May 17, pitted Pulitzer prize winning poet Paul Muldoon against Thylias Moss, author of ten books. The second, May 30, had former U.S. Poet Laureate Robert Pinsky facing off against novelist/poet Julianna Baggot. The poems and quickmuses are hosted on the site, which also allows readers to speak back via a discussion forum.
Our own take? It"s interesting watching accomplished and famous poets composing – the entire thing brings to mind Harlan Ellison"s stints writing in the display windows at The Booksmith, part publicity stunt and part his attempt at debunking the whole idea of writing as a mysterious enterprise cloaked in magic and enchanted daggers and blood. It would be more interesting to hold "open agons", in the vein of poetry slams, where unknown poets rub shoulders with the local (un)literati and can face down with them head to head. In poetry, the fun is as much in the doing as in the reading. Scheduled open bouts would be an incredible draw. Let"s see… there"s a Suggestion Box on the forums there…