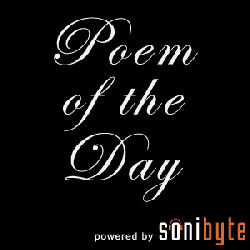 I"m not often one to follow media hype to something slick and commercial. I"m always the last one on the block to read the current bestseller out of sheer stubbornness – and this press release that showed up in my mailbox really nicked at my resistance to commercializing art. Then again – it"s a poem a day project so I had to check it out.
Sonibyte, a producer of digital sound content for the web, launched it"s Poem of the Day podcast in June, and was featured in iTunes "New and Notable" section. To date, there have been over 100,000 downloads of the Poem of the Day. That"s not too shady for a series that features professional actors and academics reading works of literature and poetry. It certainly puts a kick in the teeth to the belief that poetry is dead.
Sonibyte"s Poem of the Day podcast features a new poem every day, downloadable to your iPod or other listening device – including your computer – via RSS or iTunes feed. The service is a free subscription – but the producers are currently offering commercial advertising sponsorships at auction on eBay. Yep, that"s right – they"re auctioning commercial airtime on the Poem A Day podcasts at eBay auction. It"ll be interesting to see what companies think that advertising to poetry lovers is worth, won"t it?
Meanwhile, if you"re interested in getting a new poem downloaded to your iPod each day, you can subscribe to the podcast at this page, or just add this http://www.sonibyte.com/rssfeed/4.xml into your favorite podcasting tool. You can also subscribe to it via My Yahoo!.
Like to get a poem a day, but don"t do the pod thing yet? (BTW, stay tuned on that. I -did- attend PodCamp last weekend, and I"m excited about the chance to put some audio/video up here over the next few weeks. I"m just working out all the logistics now.) Drop by All Things Human, where Robert Huntington, an attorney, chess player and self-admitted former (bad) poet, posts a new poem every day. Just a very quick perusal of his latest entries turned up several of my all time favorites – poems that I"d tucked away and forgotten – Leigh Hunt"s Rondeau (better known as "Jenny Kissed Me), Santayana"s Cape Cod. He has a liking for the older British poets – Donne, Marvell, Thomas Hardy – and the poems are well-chosen. Drop by, leave a comment, enjoy.