Today's poetry news looks at the death of Jean Valentine, the minimalist poet.
Minimalist Poet, Jean Valentine, Dies at 86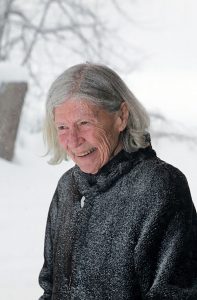 The poet Jean Valentine, a former New York State Poet, died on 29th December at the age of 86. Valentine who was a winner of the National Book Award and a Pulitzer Prize finalist, died in hospital from complications of Alzheimer's.
During her lengthy career which spanned over six decades, Valentine published a total of 14 poetry collections. Her work was once described by the poet Seamus Heaney as "rapturous, risky, shy of words but desperately true to them."
In 2004 she was awarded the National Book Award for poetry for her book "Door in the Mountain: New and Collected Poems, 1965 – 2003". In 2011 she was a finalist for a Pulitzer Prize with her collection "Break the Glass".
A number of her poems first appeared in The New Yorker. Whilst she was not an overtly political poet she did occasionally touch on public events in her writing. September 1963 was one such poem where she was inspired to write following the bombing of the 16th Street Baptist Church in Birmingham by the Ku Klux Klan. The event saw the death of four Black girls, in the poem she talks about her innocence as she dropped her own children off at school and the joy in seeing them play with other children. The poem is described by many as more than just an idea, it is an experience making the reader feel the grief at the events that unfolded.
Valentine was once asked by her fellow poet John Hoppenthaler how she achieved the dream-like state that is so evident in much of her poetry. Her reply was that she simply went to sleep and dreamt.
Valentine learned all about poetry during the 1950s and 60s, when poets like Anne Sexton, Robert Lowell and Sylvia Plath were pushing the literary boundaries and creating what is now referred to as confessional poetry.
Born Jean Purcell Valentine in Chicago, on 27th April 1934, the poet was raised in California where her father was stationed with the Navy. She attended Milton Academy in Massachusetts, graduating in 1952. She attended Radcliffe where she developed an interest in poetry under the tutelage of William Alfred the poet, playwright and Harvard professor.
Aged 30, she was a married mother with 2 children and a chance win of the Yale Series of Younger Poets Award in 1964 stopped her from giving up poetry, something she had been considering. This resulted in her first publication in 1965.
Over the years that followed, she published many more poetry books and received numerous awards for her work. She served as the New York State Poet from 2008 to 2010. She was a 14 times fellow at MacDowell in New Hampshire and also worked with Ilya Kaminsky to interpret the works of the Russian poet Marina Tsvetaeva into English.
Jean Valentine is survived by her 2 daughters, a sister and brother her 2 granddaughters and her long-time companion Monty Arnold.