Today in our poetry news round-up we take a look at Margaret Atwood's most recent collection of poetry "Dearly".
Margaret Atwood "Dearly"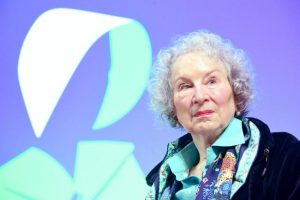 It has been a busy and at the same time a difficult time for the poet and author Margaret Atwood over the last couple of years. This time last year she was being hailed by many as the literary scene's octogenarian "it girl" for the release of her blockbuster sequel to The Handmaids Tale. She also lost her long-term partner Graham Gibson who died in 2019 suffering from dementia. She was also named the joint winner of the Booker prize in a decision that many felt was somewhat controversial.
Now she has proved that age really is just a number with the publishing of her latest book "Dearly" which is a collection of poetry that Atwood wrote began putting together in 2007.
Before the pandemic hit the globe and everywhere went into lockdown, Atwood was nearing the end of her publicity push of several months. Lockdown forced her back to her downtown Toronto home, and she suddenly found herself busier than she had ever been. Not having to travel from one engagement to another has meant that she has been able to get involved in a lot more online.
Whilst Atwood accepts that age might be catching up with her – she will be 81 this year – she does feel that the advantage of being older is that you know that there are worse situations than the one we currently find ourselves in, and we as a race have survived them.
This poetry collection sees Atwood returning to her humble roots as a poet. It is the first collection she has released in over a decade.
The poems contained within the collection were written between 2007 and 2019. They were stored in a drawer, not forgotten about but saved for a date in the future. Each poem is written using either a pencil or pen in cursive. Her writing is so bad she says that later she often can't read what she has written and transcribing the poems can be a difficult job, almost akin to reading the hieroglyphics of the Egyptians.
When they made a sizeable pile, she spread them out on the floor and put them into categories. Many of the poems that are contained within "Dearly" were written with the anticipation of the death of Graham Gibson, who she has dedicated the book to. Gibson knew that as the vascular dementia he was suffering from gripped him even more tightly he would get to a point where he didn't know who he or those around him were. This was something that he wanted to avoid and as Atwood points out his death was "impeccably timed".
Losing him, after just over 50 years was, she admitted brutal, but she had expected little else. But his last few days were filled with memories and she is grateful that they had such a long time together.