Today on My Poetic Side we take a look at the former home of the poet Lucille Clifton which is set to become a haven for artists and activists.
Home of Celebrated Poet to Become Creative Haven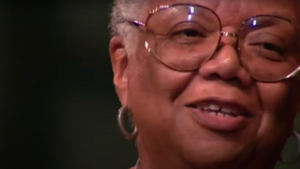 During her lifetime, Lucille Clifton was a prolific poet and writer of children's books. In the 1960s she was bought to the attention of the public by the likes of Ishmael Reed and Langston Hughes, and she eventually went on to be the first writer to have two poetry books chosen as finalists for the Pulitzer Prize. She was nominated in 1980 and a winner in 1987. She also won a National Book Award, an Emmy, a Lannan Literary Award and two National Endowment of the Arts Fellowships.
In 2007, three years before she died, she was the first Black woman to have ever been awarded the Ruth Lilly Poetry Prize; one of the most esteemed poetry awards.
Clifton was born in 1936 in DePew, New York. She attended Howard University and also the State of New York located at Fredonia. She lived in Baltimore for most of her life, and during this time she wrote six poetry books, a memoir and also served as the poet laureate for Maryland from 1974 to 1985. Much of her life was spent raising a family with her husband, who was an activist. The family lived in a white and blue house in West Baltimore and that house is now set to become a haven for other writers. The Andrew W. Mellon Foundation has given a $750,000 grant to the Clifton House in order to create "an artist and writers workshop designed to honour the legacy of esteemed poet Lucille Clifton."
In the 1980s the house was lost in foreclosure and the five children of the poet repurchased it in 2019 when Sidney Clifton contacted the then owner only to discover that that very day it had been placed on the market. The siblings purchased the house with the idea of regaining a part of the legacy left by their parents and in order to create an artist and activist's sanctuary.
In a 1999 interview with the poet Michael S. Glaser, Clifton said that the reason she continued to write was because it was a way of continuing to hope. She believed that when things were not going very well, writing offered a way of connecting with other feeling and gave a person something to hope about. It helped her not to feel quite so alone.
Thanks to the grant from the Mellon Foundation the Clifton family will be able to bring their vision for the property to life and make it a milestone worth celebrating.
If all of the work on the property goes to schedule the Clifton siblings are hoping that The Clifton House as it will be known will be able to open early in 2021 as a memorial to their parents.