Today our poetry news roundup looks at Anthony Thwaites, the poet and editor who has died at the age of 90.
Anthony Thwaites Dies Aged 90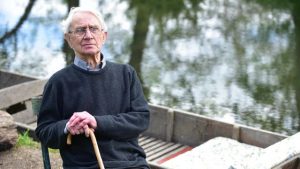 The poet Anthony Thwaites has died at the age of 90. He had been struggling with illness for a long time. A prolific writer in his own right, he was perhaps best known for his work as a literary editor. He was also a producer for the BBC.
His career was interesting and incredibly varied; In 1986 he was the chair of the Booker Prize when he read every single one of the 128 entries. During the cold war, he was responsible for smuggling Miroslav Holub's manuscript out of Czechoslovakia.
He formed a long-standing friendship with the poet Philip Larkin which saw him editing a number of the poet's manuscripts and, following his death, Thwaites, together with the poet Andrew Motion and Larkin's long term partner Monica Jones were appointed as the literary executors of Larkins estate. This resulted in Thwaites editing the collected poems of Larkin together with a number of his letters as well.
Thwaites was born in Chester in 1930. Following the outbreak of the war in 1939. He was evacuated to the US where he stayed with his aunt on his mother's side, not returning to England until 1944. He was somewhat Americanised and viewed his parents as rather elderly. His stay in American had not only given him an American accent but also a love of the past and he joined the archaeological society at school. He planned to read Archaeology at University but unfortunately, the necessity of completing National Service got in the way of his ambitions. When his national service was over, he went to Oxford where he studied English.
A published poet in his own right, with his first book seeing publication in 1957, Thwaites joined the BBC where he shared an office with Louis MacNeice, a fellow poet. He spent a number of years there working as a literary editor.
Thwaites married Ann Harrop, who he met when the pair were both studying at Oxford. Ann was a writer, first of children's books and then later turning her hand to writing biographies of writers like AA Milne. Emily Tennyson: The Poet's Wife, her biography about the wife of Alfred Lord Tennyson was her most substantial piece.  The pair moved in literary circles and in 1980 to mark the occasion of her husbands 50th birthday Ann put together a selection of handwritten manuscripts by fellow poets in his honour, these works included contributions by Philip Larkin, Ted Hughes, Seamus Heaney, Paul Muldoon and Geoffrey Hill.
Thwaites was a recipient of two honorary doctorates – one from UEA and the other from the University of Hull.  He was also a Fellow of the Royal Society of Literature.  In 2015 he won an award for "Going Out", his poetry collection.
In 1990 he was appointed an OBE.
Anthony Thwaites is survived by his wife Ann and their four daughters.