Today on My Poetic Side we look at the 207th anniversary of the birth of Charlotte Bronte, the poetry gift from one President to another, and the house with stunning views and a poet connection that has just gone up for sale.
Charlotte Bronte: 207 Year Anniversary of her Birth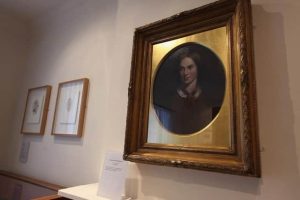 The 21st April will mark 207 years since the birth of Charlotte Bronte, the eldest of the three Bronte sisters. Charlotte was famous both as a poet and a writer, with her novels becoming classic works of English literature.
Born on 21st April 2023, Charlotte left school at the age of 15 to teach Emily and Anne, her sisters, at home. She married in 1854 and died in 1855, at the age of just 38. She was the last of the Bronte siblings to die.
The siblings were raised in Haworth Parsonage, which is now the Bronte Parsonage Museum. It was here that Charlotte wrote what is believed to be her first poem at the age of 13. During the course of her life she wrote over 200 poems. Many of her poems were published in Branwell's Blackwood's Magazine, a publication owned by the Bronte family.
Charlotte spent a year at boarding school after which she became a teacher for a short time. She was however incredibly lonely in the role and turned to poetry as a way of pouring out her sorrows. She left to become a governess, before returning home where she opened a school with her sisters. This was unsuccessful and they all turned to writing, publishing their first work of literature in 1846 under pseudonyms.
In 1854, she accepted a proposal from her father's curate, and they were married by the summer. She fell pregnant but died, together with her unborn child just 3 weeks before her 39th birthday. Her official cause of death was consumption although experts now believe she may have been malnourished and dehydrated as a result of hyperemesis gravidarum. She was buried in the family vault.
Whilst the Bronte Parsonage Museum has no special events planned for the day, later this month they will be celebrating the 50th anniversary of the BBC mini-series "Jane Eyre".
President Higgins Gift to President Biden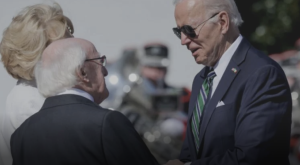 During the visit of President Joe Biden to Ireland a very special gift was presented by the President of Ireland.
This is the third meeting between the two and Biden's love of poetry is well known so the gift was particularly fitting. The gift was a vinyl copy of "Patrick Kavanagh: Almost Everything…" this is a new album release of an original which was released in 1964. It features the only recording of the poet himself reading some of his most famous works.
House with Poetry Connection up for Sale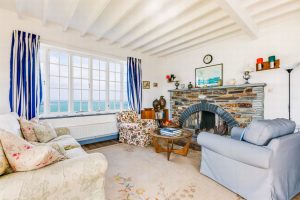 A stunning home with a spectacular location on the coast in Cornwall has gone up for sale. The 1930s property, which is on the market for £5million, is where Sir John Betjeman penned "Greenaway", named after the stretch of nearby coast which is also known as Greenaway.
Betjeman is buried in nearby St Enodoc Church, which is close to what was his favourite golf course.