As we approach the centenary of the end of the First World War, My Poetic Side takes a look at poetry news articles related to the commemoration events taking place all over the world.
Pages of the Sea Choose Their Portraits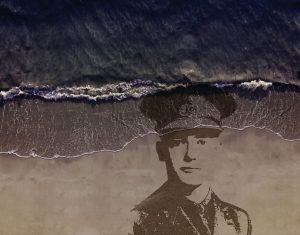 We have previously written about the commemoration that is being organised by the director Danny Boyle, and for which the poet Laureate Carol Ann Duffy has been commissioned to write a poem. We can now reveal that a number of names have been announced for the portraits that are to be drawn in the sand on various UK beaches on the 11th November
In many cases, the names of those figures who have been chosen have links to the area where they will be found. Folkestone's Sunny Sands beach will feature a portrait of the poet Lieutenant Wilfred Owen who sadly died in battle just a week before Armistice Day.
A Scottish beach, Roseisle beach in Moray, will also be featuring a portrait of a poet; Captain Charles Hamilton Sorley, the Aberdeen war poet who was also a British Army Officer.
Other chosen figures include Dr Elise Inglis, who was a pioneering surgeon and a Suffragette; she was responsible for setting up hospitals to treat many thousands of injured soldiers on the front line in Europe. The first black officer in the British Army, who was also the Second British black professional footballer, Second Lieutenant Walter Tull will also be remembered on Ayr Beach.
Cambridge Alumni Mark Sacrifice with Special Performance of "Silver Rose"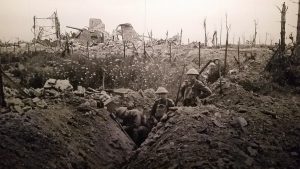 Over the Armistice weekend, Trinity College at Cambridge will be marking the occasion with a special performance of "Silver Rose" by the composer Liz Lane. The performance is part of a remembrance of the lives of the 619 members of the college, who lost their lives during World War One.
The Lydbrook Band will be performing with narrator Micha Lazarus, who will be narrating lines by the poet Issac Rosenberg that are featured in the work. Lazarus is a descendent of the poet, who lost his life in the trenches, lending a particular poignance to the performance.
Plaque to Commemorate Scottish Poet to be Put up at Former Home
One of the greatest, but possibly least known war poets, Charles Hamilton Sorley has been remembered with the unveiling of a plaque at the home where he lived before the war in Aberdeen.
Sorely died, aged 20 in the Battle of Loos. It wasn't until after his death that his poetry was published with he discovery of almost 40 poems in his kit bag being found when it was retuned to his family.
He is most known for the poem "When you see millions of the mouthless dead", which is seen as one of the greatest First World War poems. Despite this, Sorley's poetry is still not as well-known as those of fellow war poets Wilfred Owen and Siegfried Sassoon.