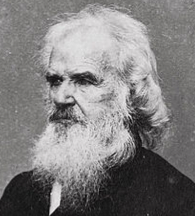 John Pierpont was an American poet and Unitarian minister.  He was also a pioneering teacher, abolitionist and a some-time member of the law profession.
He was born on the 6th April 1785 in Litchfield, Connecticut and received a good education, graduating from Yale College at the age of 19.  He later returned to his studies in 1816, initially in Baltimore and then at Harvard where he read theology with a view to become a minister.  His first appointment was as the pastor of a church in Boston, a post he held between 1819 and 1845.  He used this time to establish the English Classical School (in 1821) and soon became well known as a respected teacher across the United States.
He set out from the start to improve the reading abilities of his pupils and published two books on reading:  The American First Class Book came out in 1823 and The National Reader in 1827.  Alongside his teaching responsibilities he continued his ecclesiastical work but this was wreathed in controversy.  Many took exception to his strident views on abolition and temperance and he was forced to resign from his pastoral position in 1845.  This was no discouragement though and he took up further appointments including serving as a military chaplain during the American Civil War, although this was a short-lived tenure.
At the age of 76 he obtained a post in the US Treasury department which was to last for five years, right up to the time of his death.  Despite leading such a busy life as both teacher and minister Pierpont still found the time to write.  Besides educational works he wrote a copious amount of poetry, the most famous being the much anthologised long poem Airs of Palestine.  This was first seen in book form, in 1816, under the title Airs of Palestine: A Poem.  Here are the opening lines of this most significant piece of work: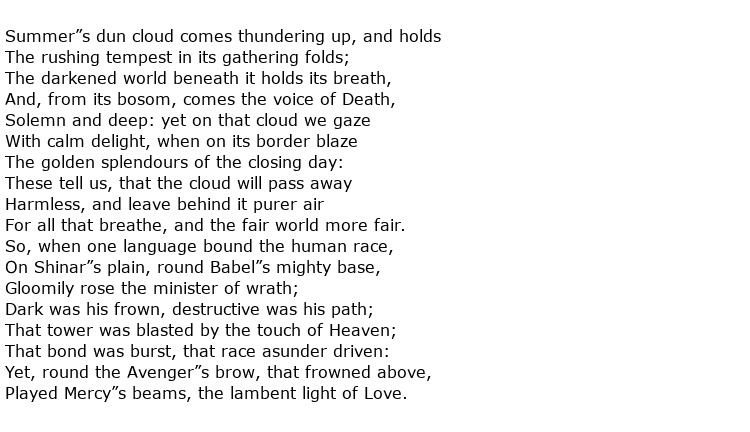 His passion for the temperance movement surfaced in an 1844 piece called The Drunkard, or The Fallen Saved.  It is believed that he was the co-author of this dramatic production which was staged in Boston and was much praised by others of the movement.  Not surprisingly, Pierpont was a prolific writer of sermons, among them Moral Rule of Political Action, written in 1839 and A Discourse on the Covenant with Judas (1842).  He became known as something of an authority on phrenology with his 1850 publication of Phrenology and the Scriptures.
Many of the antebellum poets, such as John Greenleaf Whittier, were much influenced by Pierpont's work and it was not uncommon for his poetry to be heard at large gatherings of the anti-slavery movement.  In 1843 a collection of his poems on this subject was published and many of his abolitionist-themed pieces appeared in periodicals such as The National Anti-Slavery Standard and The Liberator.  On a much lighter note, he was credited with the writing of the Christmas song Jingle Bells for a while but it was later established that his son, James Lord Pierpont, was the true author of this piece.
John Pierpont lived a long and influential life which came to an end on the 27th August 1866 in Medford, Massachusetts.  He was 81 years old.