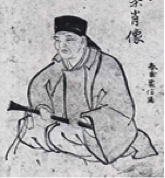 The poet who became known as Kobayashi Issa was a Japanese exponent of the Haiku form of short poetry.  He learned this form at school in Tokyo under master teachers Sogan and Chikua.  The basic element of this form of poetry is that the writer is able to cleverly capture a specific image or feeling using sensory language.  This might be inspired by something natural such as a moving experience or the observation of nature in its purest form.  Although Haiku's origins are Japanese the form has been used by poets of other nationalities, adapting it to suit the circumstances of the writer.
Issa was born Kobayashi Nobuyki in 1763 in a rural farming area called Kashiwabara, found in the Shinano province.  He had a difficult childhood having lost his mother and then, when his father remarried, he could not get along with his step mother and step brother.  Despite his family troubles he started writing poetry at an early age and he was sent, at the age of 14, to Tokyo where he could study the Haiku form.  His family gave him no financial support though so the only way to get into the school of poetry at Kasushika was to work as many hours as he could in menial jobs.
He managed to overcome all the initial obstacles and eventually, in 1791, he was so well versed in the art of Haiku that he was appointed to a teaching post at the school.  This was, unfortunately short lived as the stricter, more traditional ideals of the school did not fit well with Issa's modernistic style of Haiku.  He was unwilling to compromise so elected to take to the road for the next few years, seeking inspiration from province to province.  He was supported in these endeavours by one Seibi Natsume and, during his travels, he adopted the pen name of "Issa" for the first time.
With a wealth of new poems behind him he published his first collection in Tokyo in 1795 and called it Tabishui.  The next 16 years saw Issa travelling extensively and he recounted his experiences in further collections such as Kyowakujo (pub.1803) and  Waga Harushu (pub.1811).  The following year he had to return to his home town of Kashiwabara.  His father had died and his step family had engineered a way to dishonour his late father's will.  Issa married at about the same time but the marriage was an unhappy one, with all of his children dying in infancy followed by their mother. He certainly married again (possibly twice more) but there are contradictory accounts of this.
Issa though was now a renowned figure in the form of Haiku poetry as so many readers found it easier to read than earlier versions of it.  Issa strived to make his poetry interesting and relevant and, as a result, gained legions of followers both during his lifetime and in the years that followed.  He wrote about the natural world around him as well as his experiences of human behaviour (some good, some bad). His catalogue of poems is vast – some 20,000 haikus – and his work is still being translated and bought all around the world even to this day.  Here are three examples of Issa's 3-line haikus.  Simple ideas, simple language, short and to the point: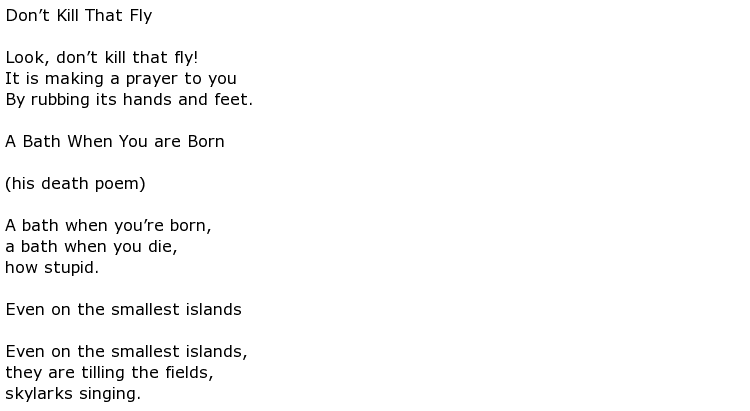 Kobayashi Nobuyki (Issa) died in 1827.  He was 64 years old.